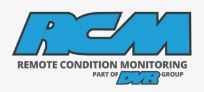 Making Decisions Based on Quality Data, Future Delays Prevented Today
As a part of the DVR group of companies RCM (Remote Condition Monitoring) will be exhibiting at the Railtex Exhibition 9th – 11th May 2017 at the NEC Birmingham, RCM will be on stand Q85. Our engineering and sales team will be on hand to discuss Remote Condition Monitoring requirements and in particular or Asset managing software that can be utilised to manage and monitor all types of electronic systems providing real-time solutions and data to enable engineers to make decisions based on quality data using a computer or smartphone.
With auto generated alarms, deploy resources effectively and minimise line access time.
For more information or if you would like to book an appointment please contact the sales team, 01268530032 or via email sales@dvr-ltd.co.uk, or visit our website, http://www.dvr-rcm.co.uk