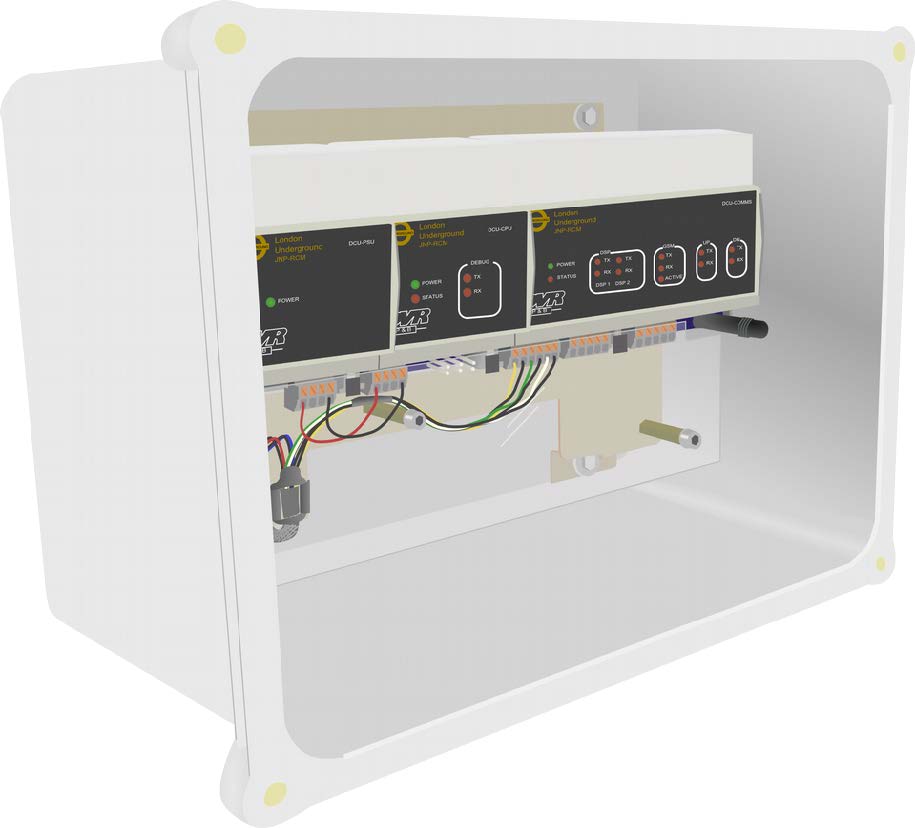 Data Collection Unit
Gather rich data streams for Remote Condition Monitoring with a robust, configurable, low cost Data Collection Unit.
Predict failures before they happen and target preventative maintenance where it is needed the most. Intelligent Rail Infrastructure can be a reality today.
Initially produced for monitoring Electronic Axle Counters (EAKs) in real time, the RCM-DCU is a highly configurable data collection unit optimised to operate on very low power.
The modular design permits customisation to your application. The standard module includes a GPRS connection for uploading data to a remote server. 3G and 4G alternatives can be supplied.
The RCM-DCU is configurable for underground track side installation through a wired, narrow band RF or fibre up/down communications link.
Key Features
Robust design
Flexible data capture options
Data capture to millisecond precision
Colour coded wiring connection
High durability box for environmental protection
Watch dog system
LED Status Indicators
Designed and built in England
Over The Air (OTA) firmware updates
Operates from same 100V DC input as Thales EAKs
Can be daisy chained for in-tunnel operation
IP68 rated enclosure suitable for exterior use
Made from UL 94 compliant materials
Compliant with LUL S2508, EN 50121, RoHS
Branded face plates on internal modules
Below 2 Watt average power consumption
Compliant with trackside environmental, vibration and EMC standards
Made from approved materials
Individual serial numbers on modules, loom and enclosure enabling

detailed tracking
Modular

Our Data Collection Unit has a modular design for simplified maintenance and adaptability. For instance, the PSU could be changed to allow the DCU to operate at a different input voltage. The communications module could be changed for new connectivity options.
Over The Air Updates
Our CPU module can be reprogrammed remotely providing the convenience and cost savings of unattended upgrades.
Telit GPRS Module

Our communications module utilises GPRS services tailored for SCADA applications. Telit SIM cards are not subject to minimum usage policies, have long term support and can be configured over the air to use a specific mobile network or to roam. Telit also provide 3G and 4G modules for higher bandwidth applications.
Reliable
IP68 compliant and corrosion-resistant enclosure. Watchdog constantly monitors the communication lines for activity. The computer is automatically reset after an unexpected quiet period.
Adaptable
The DCU is fully adaptable with various communications modules, data collection components and outputs. Suitable for data collection from digital and analogue streams. Please see specifications for more details on input options.
Maintainable
Our unit is simple to install and to deploy, with no preventative maintenance required. There is a continuous self testing through software, as well as error reporting through diagnostics port and status LEDs to aid in fault isolation. Quick to 'swap out' any module in the unlikely event of a hardware fault.
Specifications
INPUT/OUTPUT
Standard communications module:
1x GPRS antenna
2x RS-232
2x RS-485 ports serial ports
Alternative communication options:
1 x telecommunications module (2G, 3G, 4G)
5 x General purpose serial ports
Can be any mix of industrial RS-485 and industrial RS-232 ports
Serial ports can be connected to:
Analogue to Digital converter sampling at up to 100 kHz and with up to 24-bit precision
868 MHz radio communication module
Current input sensor (AC/DC to 100 kHz)
Strain sensor
Relay driver card
Environmental sensors (e.g. temperature, humidity)
Any other sensor
CONTROLLER
Processor: PIC32MX
Clock Rate: 80 MHz
Memory: 128 KB RAM, 512 KB Flash
Additional Storage: 1 MB Flash on board
ENVIRONMENTAL
Compliant with LUL S2508 environmental requirements
-20°C to +70°C ambient temperature range
Enclosure Specifications:
Fibreglass construction
Compliant with NEMA 4X (IP68) environmental protection
Corrosion resistant
UV Stabilized (will not discolour)
UL 94 Flammability Rating
POWER SUPPLY
Input: 100V DC (Depending upon PSU)
Output: 5V DC
Power consumption: < 2W, surge limited
APPROVALS
Dimensions